I'm always excited when someone sends in their pictures of a London Black Cab restoration project, and I've just got my hands on some more photos which I included at the end! This one came in as a comment on another London Taxi for sale post, and after a quick email, Cynthia sent me these pictures. It looks from the pictures like a great restoration which was carried out in 2005, and it's married to the indestructible Nissan diesel engine which can run around the clock for decades in much harsher conditions than Virginia. If this one has been babied as the owner suggests, it would make a great minivan or weekend car.
This is what the owner has to say.
SOLD!For Sale: London Taxi – $12000
Update: This one sold before Christmas 2013, so about 8 months later. Phew. Long lead time on selling and buying taxis folks!
Great, fun car! Always gets heads turning. Would make a great addition to your business or just to have and enjoy. 1975 Austin style with Nissan diesel  TD27 engine. Refurbished in 2005 including new paint, upholstery, headlining, and carpet and garage kept since.
Here's another photo of the interior – it's a right-hand drive of course – just look at the shine on that steering wheel: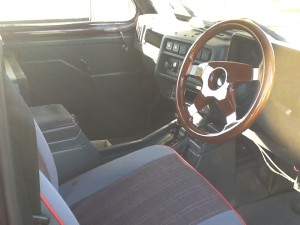 If you do get in touch, tell her that you found it on LongPassage.com. I don't get paid or anything – all this is just for fun – it's just nice to get feedback when people do actually find their future taxis here.
If I can give one piece of advice about buying a black cab or any classic or vintage vehicle it would be this: if you want to be economical, make sure that it's already been refurbished well. In essence, any money you spend on fixing it up is going to be two or three times what you would spend on having a car that's already fixed. That might be okay if you want to put some personal style into the job, but not if you want it to look original.
Also, given that these vehicles originated on the rainy streets of London, check for rust. Sure you're going to find it, but how much? The bottom of the door sills is one common area to find extensive filler, so check the quality of the work or you'll be in for a maintenance nightmare! I saw photos of the sills on this can in Virginia, and they look pretty clean – it doesn't take long to tap them or hold a clean magnet nearby to see what they're made of.