The benefits of visiting friends[I]friends with or without conventional benefits in remote locations is that you get a much streamlined experience. My visit to Cape Town wasn't cluttered with figuring out currencies, taxis[II]taxis are cars with drivers that you talk to and they drive you there and then you pay them in the local currency, and existed before Uber et al. In some countries, in some times, taxis were your … Continue reading and buses, accommodation and scams. Instead I was collected at the airport at Johannesburg and we drove to a remote hotel to unwind. Then a drive to Cape Town to stay with friends.[III]friends of my friend
Instead of striking up conversations with strangers as an independent traveller [IV]I'll never forget Roy, the Antipodean architect, who told me of how he handed in a drawing for a building scheme to the floor by a client's feet, and then urinated on it saying, … Continue reading, I was invited to parties where I was the only non-local.
"Have another beer!" the party guest would encourage.
"No thanks, I'm driving."
"Okay – so have another beer!"
My friend had to step in, "They don't drive drunk in England."
The look of confusion briefly passed over the countenance of the guest, before a shrug wiped the incredulity from his body, "Suit yourself."
It was perhaps that I had offended all that he held sacred – the ability to drink with friends (and strangers) and continue to propel himself and his car through the city streets with impunity.
It was a long night with the drinkers, with me being the only designated driver[V]designated sober driver would be more accurate and finally we came to drive home. Easing the car full of blabbering inebriates through the unfamiliar streets of Cape Town at 2am, I came to a red traffic light and dutifully stopped in exactly the way I wouldn't if the red traffic light had been in Jo'burg per the instructions of my host.[VI]red traffic lights in Jo'burg helped identify tourist drivers, and were the cue for local hoodlums to take out money from the mobile ATMs. Only unsuspecting tourists would bow to the commands … Continue reading.
Pick-up trucks filed past from right to left on the road ahead. They were driving remarkably slowly. This made me nervous. But not as nervous as the men sitting in the beds of the pickups sporting head-scarfs, snoods and automatic weapons. The mood in the car shifted. My light turned green.
"Just wait until they've passed."
"What's going on?"
"It's PAGAD – People Against Gangsterism And Drugs. They're not after us. Just stay still 'til they've passed."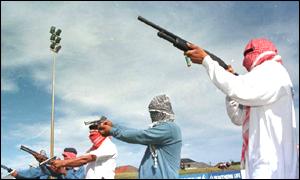 I wasn't particularly reassured. The light turned red, and my traffic programming prevented me from budging. I wasn't familiar with convoys of armed vigilantes crossing my path. After what seemed like an age, the last truck passed – the man in the back making long deliberate eye contact with me as they went. The light had turned back to green. I gingerly[VII]how else does a man with red hair drive pulled away and went into the night, asking questions of my passengers.
PAGAD were simply trying to get rid of the problems they saw in Cape Town. Using guns and bombs. I'm not sure how effective that is – it's probably a lot quicker than raising standards of living and improving education and creating viable jobs for a disenfranchised youth. While they were initially supported by the police and government, they were later branded as terrorists.
PAGAD was perhaps most notorious[VIII]notorious or famous for burning alive a suspected[IX]suspected seems a little bit of a cop out in the article – the guy has his own Wikipedia page now, but then they say that the victors create history gang leader in the streets or Cape Town.
I'm not sure if the armed convoy we saw was on a scale with the 500 strong motorcade that was present in that particular lynching, but it was something that will stay with me.
It's one of the many experiences that shows that I have certainly lived a sheltered life in the UK – when the supermarkets are short of rice and pasta I get indignant, despite the current global pandemic.[X]My social reflex still forces me to proffer an outstretched hand of shaky greeting before I can stop it. I'm part of the problem not part of the solution And if I hadn't been staying with a friend, it's a side of South Africa I would never have known about.
Footnotes

↑

I
friends with or without conventional benefits

↑

II
taxis are cars with drivers that you talk to and they drive you there and then you pay them in the local currency, and existed before Uber et al. In some countries, in some times, taxis were your gateway to anything you could desire – narcotics, debauchery and anything that was for sale, which could include anything that their network of friends, family and partners would sell – such as 'a day sightseeing', 'the brothel you didn't ask to go to, but the taxi driver just expects all single men in Thailand to want to go to', 'the restaurant their brother owns'

↑

III
friends of my friend

↑

IV
I'll never forget Roy, the Antipodean architect, who told me of how he handed in a drawing for a building scheme to the floor by a client's feet, and then urinated on it saying, "That's what Roy thinks of your crummy scheme." – you really meet all sorts in backpackers' hostels

↑

V
designated sober driver would be more accurate

↑

VI
red traffic lights in Jo'burg helped identify tourist drivers, and were the cue for local hoodlums to take out money from the mobile ATMs. Only unsuspecting tourists would bow to the commands of the three-coloured poles in the distinctly two-coloured bipolar 1990s South Africa

↑

VII
how else does a man with red hair drive

↑

VIII
notorious or famous

↑

IX
suspected seems a little bit of a cop out in the article – the guy has his own Wikipedia page now, but then they say that the victors create history

↑

X
My social reflex still forces me to proffer an outstretched hand of shaky greeting before I can stop it. I'm part of the problem not part of the solution