A few weeks back I saw one of the worst eBay car ads I've seen in a while for a Jaguar XJR and my interest was piqued. At the same time, a friend was also selling his Mazda RX8 and was having no luck. What was the missing ingredient for both, and what did I tell my friend to do about his ad?
Photos. I mostly wrote this previous article about how to sell a car online for my RX8 selling friend's benefit – not that he'd read it, but more to formulate my thoughts to send him the kind of short email that he enjoys. He'd put up a car advert on AutoTrader and received a grand total of zero calls. He had four photos of his clean car on the site. The car is nice. Really nice, and he's taken good care of it. It has low mileage, and the right kind of specs to make it compete very well against other cars of its ilk. But no interest. In short I said that people like to see photos from certain angles if they're going to pick up a phone and talk to a stranger potentially hundreds of miles away about their car. Clean your car again, and take a dozen half decent photos if you want to sell! Mr. RX8 duly complied and the phone has started to ring – within 24 hours of adding the extra photos.
When I came across the above advert for a Jaguar XJR I was shocked by its brevity and the photo famine it was suffering from. I had a few exchanges with the seller and he seemed like a real person selling a real car with few owners and relatively low miles for its age. I did a vehicle check and threw in a low bid. The bidding went past my limit and I forgot about it and continued to scour AutoTrader, PistonHeads, CarAndClassic and the like. I spoke to Nick Williams who seems to be a pied piper of Jaguar XJRs, collecting them and refurbishing key components and then selling one every week. I was all set to head off to Wales to meet him and see his stock when I saw the scantily dressed eBay advert resurface.
No-one was bidding on the car in Scotland – a long way away from centers of population where people buy these cars. So I bid and not many other people did. I won the auction, and went off to collect it. A huge risk really with a car that's renowned for rust on the wheel arches, sills, strut mounts and so forth. After 7 hours on trains and buses with a short walk around Berwick-upon-Tweed, I suddenly realized that the phone numbers I had for the seller didn't work. He had called me upon the completion of the auction, and had told me he was moving. So there I was, 230 miles from home, out on a limb with no way of knowing if I was part of a huge scam.
It was with massive relief that I saw the Jag from the window of the bus. Hopping out I found the enthusiastic owner and was very pleased with what I saw. There are a few dents on the boot, and a mass of pine needles in the various channels around the vehicle, but all in all it seemed in great shape at first glance. The seller had owned the car for a little over nine years and was keen to show me how everything worked. He seemed to really care about the car, and was keen that I took good care of it.
I decided to enter the data from the various invoices and service history items to see whether it really was the mythical full service history. This is the graph – it looks like it's been regularly tended to, and that it's been documented fastidiously. Overall I got a good feeling about the purchase, though of course there are a few niggles that need to be taken care of – after all the Jag is a teenager and lives in a rainy climate with salty road and vinegary road chips.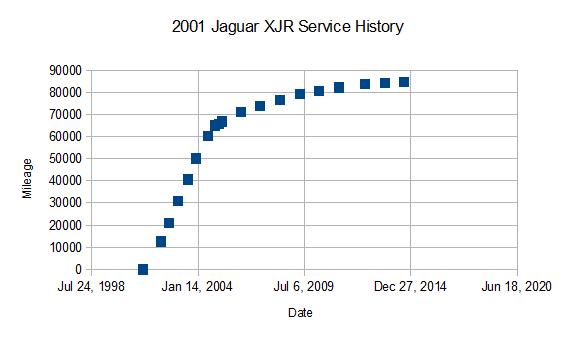 If you want to get the most from your online car sale, take a bunch of good photos. If you don't want to compete against multiple bidders on an online car auction, look for one without good photos, but be prepared to go check it out or at least get a sense for the owner's ability to describe the car and authenticity.