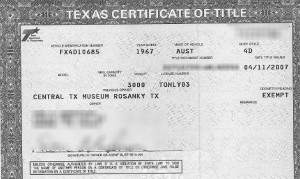 Allegedly my Austin FX4 taxi used to be owned by a museum. The seller told me that it had been there for 25 years before he got it, which explained it's fantastic rust-free condition. Normally I take such claims with a healthy dumpster of salt, but it could actually be true.
The title document has the previous owner listed as the Central TX Museum of Rosanky TX. Which actually exists. I gave them a call explaining that I had just bought a taxi and that I wanted to find out more about the history of it, and the gentleman who answered the phone said that the museum had owned two, and that he'd do some research with the boss. The founder turns out to be Dick Burdick – who also owns Dick's Classic Garage in San Marcos.
I'm still waiting to hear back about that, and the only other clue I have is an inspection sticker on the windshield. The sticker is dated from 1986. So it could theoretically have been driven in 1986, left at the museum for 21 years until 2007, and then moved to the seller's garage.
He has receipts for work done in the last few years, mostly in 2010, so it may have just sat for a few years, and now I'm just idly conjecturing.
Had it been in service from 1967 to 1986 on the tough streets of London? Hard to say. All I know is that it seems to be spending its latter years moving little.
If you know of someone looking to buy a black cab in Texas, let me know. One day I shall part with mine.