Copying files between my iPad and PC hasn't cost me a penny since I started using DropBox. For the princely sum of zippo I can
Keep a copy of my important files securely backed up online
Share files between different locations with my own computers
Work on the same files with my iPad and PC laptop and iPhone
Share files with other people
It's pretty simple really. You install the DropBox client on your computer or mobile device and it adds a virtual folder called DropBox. When I make a new file that I want to view on my iPad, I just drop the file into the folder and then it's backed up immediately, and I can open it on my other computer. Yes, its simplicity is its genius.
On the iPad, GoodReader even allows you to quickly pull things from DropBox with a flick of a finger.
When I make a change to a file in the folder, it gets replicated everywhere. It's not a full on version tracking tool – it can do simple things like restore previous versions, but I haven't ever experimented with trying to change the same file from two locations at once.
I was sharing this with a friend (they used my link which I'll post at the bottom and got an extra 250MB of storage for free) and they asked:
Should I copy all my files to my DropBox folder or should I just move them there? What happens if DropBox loses them all and I don't have a backup?
It's a good question. I basically keep all my volatile files only in DropBox. If for some reason the service explodes or gets taken over by alien super-intelligence then I still have a backup copy in my DropBox folder. (You can test this by simply disconnecting from the internet and you'll see the files are still stored locally). I haven't moved all of my files into the folder for the following simple reasons: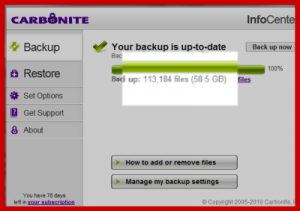 I'm cheap and you "only" get 2GB free (up to a maximum of 8GB if you tell people about it as I'm doing here). I have about 16GB of files for my real estate business (not including videos) and I back this up in a different way. On any given month, I'm working on only about 10MB of files at the very high end), and these are the files I need to have accessible and backed up. (I use Carbonite to back up my larger volume of slow moving files, which currently amounts to over 58GB)
So if you want to share files, back them up without having to think about it, and access files with multiple devices, then this is the only free backup software you'll need. Unless you've got more than 8GB of files to back up. If you're collaborating on more than 8GB of files then you probably need something that costs a little more than absolutely nothing.
If you want to get an extra 250MB of free space, then use this DropBox link to sign up. It's free. It works. It's simple.