I am not often moved to write a review of a cafe, but today I am – of the Avenues Cafe in Sneinton.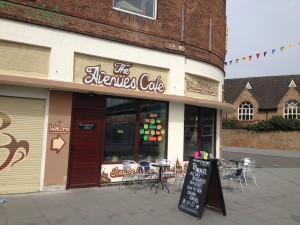 After stopping  my reviews of fish and chip shops in Nottinghamshire, I weigh eight kilos less. Still, I do eat a heck of a lot of all day breakfasts and curries as this seems to fit into my range of foods that don't make me a bloater. (Skip the bread / toast / naan and you can gorge on grease).
The morning started by a failure to secure my bike in a CityCard enabled storage locker – a great idea but the implementation is woeful. I'd got a new card from the Travel office in Market Square after being told the one I had was useless. Today I went to the Travel centre in the Broadmarsh Bus Station to be issued a new card after being told my other new card was useless. And that the lockers don't work any more as they've been turned off. Hooray! More useless plastic cards that don't do anything.
Customer service in the UK, I decided, is awful. One hand doesn't know what the other is doing, but both hands are giving out redundant cards on non-integrated systems with conflicting advice.
Today, I wait for a call back from a mortgage broker (2 weeks with repeated calls from me), a solicitor (2 weeks), someone to haul away a tree (doesn't answer either of the phones that he lists on his flyer he's just paid to deliver to my house). After ten years in the US, I'm surprised that any of these people stay in business. Unless UK customers are just accustomed to being treated as inconvenient by-products of a business.
Upon arriving at the Avenues I was fairly foul tempered and disappointed as a customer. That's when the sun shone on the disgruntled cloud darkening my furrowed brows, the rainbow appeared, and the mythical customer focused UK unicorn appeared – her name is Caroline.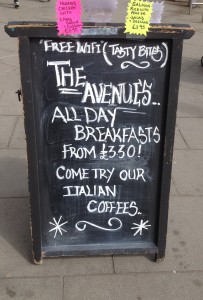 Not only did I get salmon, rice and peas and a sweet chilli sauce for £3.95, I was offered a side salad. Less than four quid, cooked to order, fresh, tasty. The breakfasts on which I frequently feast are also amazing value. Caroline came round to check that I liked my food, and gave me several hugs when I asked if I could take the above photo. The food was outstanding, the portions generous as ever. I felt well treated and well fed. I felt as if my opinion mattered, and that Caroline and her crew wanted me to come back.
Apparently the cafe used to be called Tasty Bites and she showed me the old location in Sneinton Market, and where they're going to be once more in November. They've been in business for twenty years, and I'm sure with the attention they lavish on customers like me, they'll be in business for another twenty. Thanks for proving that my sweeping generalisations about UK customer service are just that, and for treating me like a visiting Duke.